Orienting Each Student to Reach their Peak
Pikes Peak State College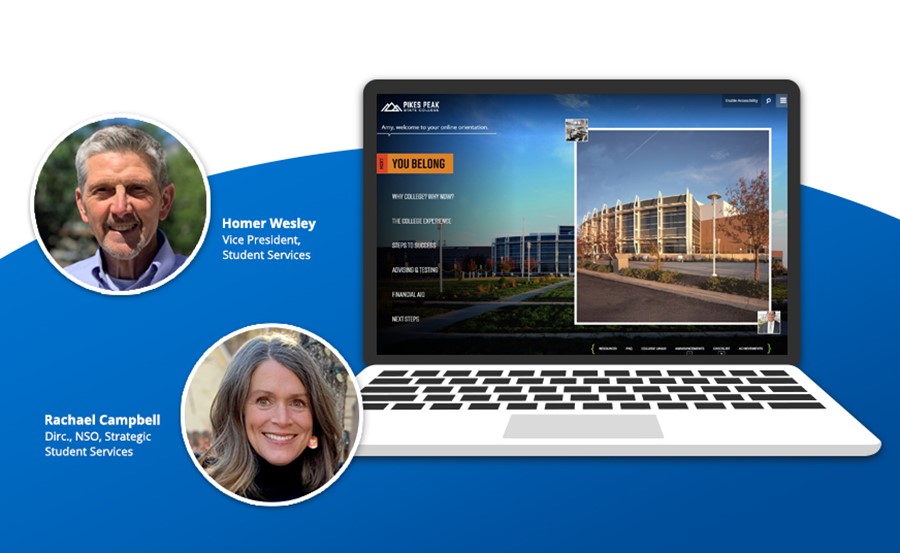 Each student comes to college with unique needs, experiences, and ideas of what they hope to achieve. That's where orientation fills an essential gap. And, yet, too much information all at once can be confusing, overwhelming, and irrelevant for the individual.
It's possible to personalize online orientation while providing students with a balance of information and inspiration they can absorb at their own pace, then take the next step with greater confidence. More institutions are choosing one online orientation system as the digital hub of their onboarding process. They are meeting student expectations at scale, while simplifying the process.
Student Services leaders at Pikes Peak State College (PPSC) began by understanding of the diverse characteristics of their student population and the future workforce needs of the surrounding region. From there, they formed a strategy centered on creating a virtual onboarding experience accessible at any time, on any device. More students than ever are engaging in and completing orientation content at a rate of over 80% since launch.
Request this Recording to
Learn from Homer Wesley, Vice President Student Services, and Rachael Campbell, Director of New Student Orientation and Strategic Student Services Initiatives at PPSC.
Experience a Tour of PPSC's online orientation, including a uniquely Branded interface design, video production, and interactive elements.
Examine outcomes sourced from real-time data within the platform.
Listen insights from answers to chat questions
Discover how Advantage Orientation® easily adapts to any onboarding scenario and any admissions type. This story can be your model to follow!