The Digital Hub of Graduate Student Onboarding
Clemson University Graduate School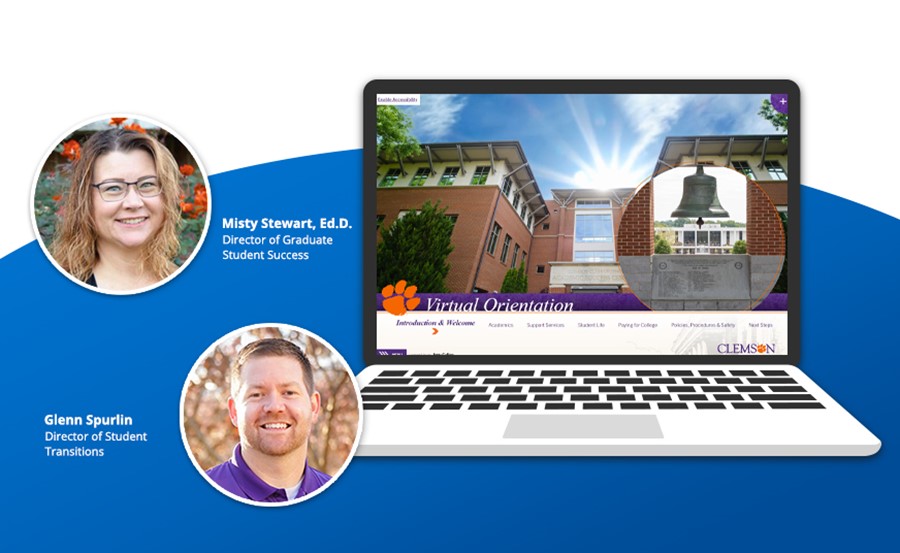 With a virtual orientation performing as the digital hub of the onboarding experience for graduate students, the student success and transition leaders at Clemson University are serving more new students across the enterprise.
Once delivered only in-person, orientation information was initially moved online using the institution's existing learning management system. This method soon proved to be time intensive to manage, incapable of delivering meaningful analytics or personalized content, and lacked the aesthetic required of the global Clemson brand.
Today, Clemson is serving relevant and personalized orientation content to graduate and undergraduate students alike, all from a single system. Content is on Brand, interactive, video-rich, and accessible anywhere in the world. Engagement is reported through a robust and intuitive analytic tool set. Graduate students are completing virtual orientation at a rate of over 88%.
Request this Recording to
Learn from Misty Stewart, Ed.D., Director of Graduate Student Success and Glenn Spurlin, Director of Student Transitions at Clemson University.

Tour Clemson's Virtual Orientation for Graduate Students and catch a glimpse into how content is uniquely presented to graduate students.

Gain insights from answers to chat questions.

Discover how Advantage Orientation® can easily adapt to your onboarding and engagement strategies.