Forward through the Arch: The Future of Hybrid Orientation
University of Georgia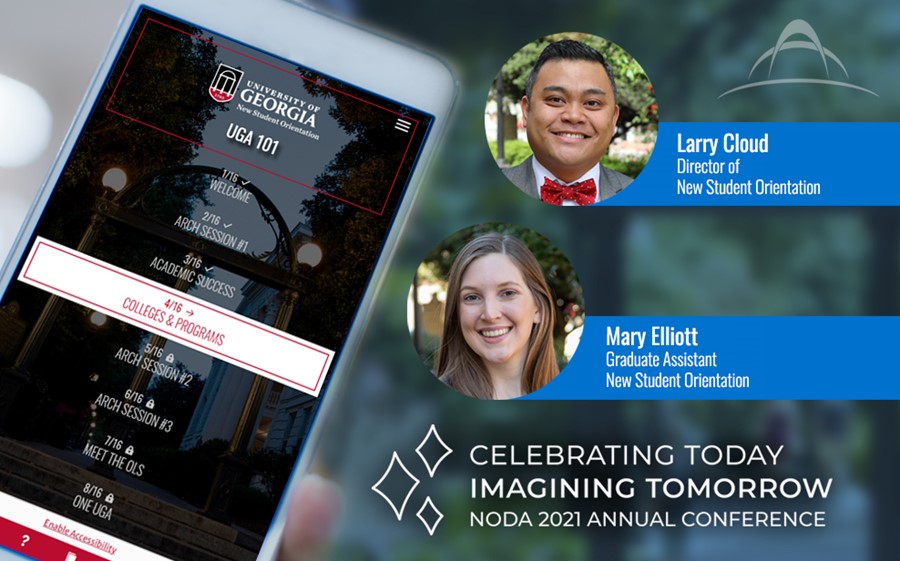 PREVIEW & REQUEST ACCESS TO THE RECORDING
as presented at the 2021 NODA National Conference
NODA, Association for Orientation, Transition, and Retention in Higher Education
As we imagine tomorrow, what is the future of student and family orientation? Can we go back to "normal," or is there a way to build confidence and strengthen connections with a balance of high-touch and high-tech strategies to meet expectations? Yes!
This session features how UGA is taking a hybrid approach to orient new students and their families, from admission through enrollment. Their real-life story is a model you can follow and apply to any onboarding scenario. Your presenters explore three strategies for a hybrid orientation approach that leans on People, Processes, and the Advantage Orientation® platform. 
"We use Advantage Orientation® as an introduction to UGA to supplement in-person orientation," said Larry Cloud, Director. The online orientation modules are mandatory. Orientation is part of our culture and has always been a requirement." This fall, over 6,300 students and nearly 400 family members completed the online modules and then, over 6,000 students participated in in-person orientation.
Larry expounded on the primary benefits of using Advantage Orientation® as the digital hub of UGA's onboarding system including
Personalization
Efficiency
Flexible
Expandable
Accessible
"The platform has a few built-in features we like a lot, one is the ability to create content tracks for different audiences," Larry said. At UGA, they provide content tracks for
First-Year Students
Transfers
International Students
Veterans
Distance Learners
Parents & Family Members
Request the recording of this conference session to learn how the New Student Orientation team from the University of Georgia is innovating the new student experience with online orientation. You'll take a tour of their online orientation and review quantitative outcomes.