February 24, 2021
Leveraging Orientation Tech to Innovate Beyond Expectations
February 24 | 1:00 PM EST | An ACPA Professional Development Event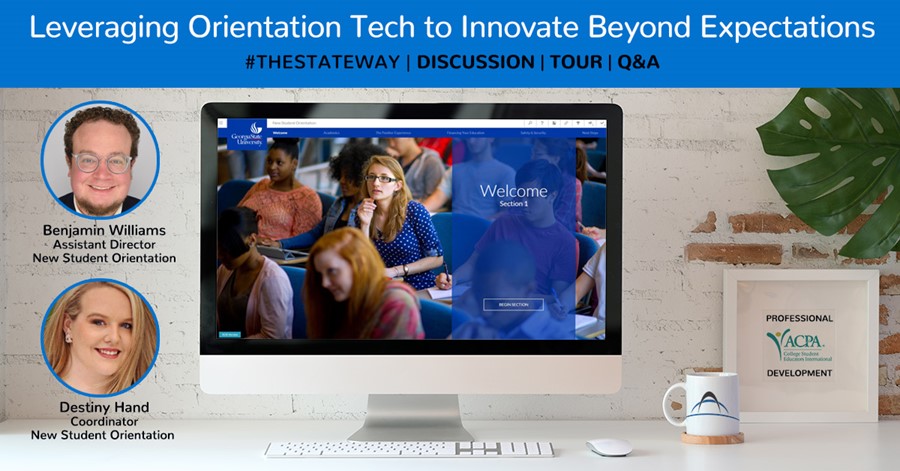 COMPLIMENTARY WEBINAR
in cooperation with ACPA
At Georgia State University, new student orientation had two needs: to enhance the in-person program across six campuses to support enrollment and simultaneously provide an experience that combined in-person and virtual elements. 
To move orientation content to a digital environment, improve accessibility, and better serve exceedingly diverse audiences, Georgia State University created a comprehensive strategy to provide onboarding support from admission to orientation and ultimately enrollment. Powered by Advantage Design Group®, the new orientation platform enables a seamless and personalized onboarding experience for all members of the Panther Family. As a result, Georgia State experienced decreased orientation melt and no-show rates.
Contrary to some enrollment trends, in one season Georgia State
Welcomed over 25K new students, families, and staff through online orientation
Decreased No-Show Rates by over 10% during a global pandemic
Enrolled the largest freshman class in University history
Attend this webinar to learn from Benjamin Williams, Assistant Director, and Destiny Hand, Coordinator of New Student Orientation. The presentation will include a discussion, platform tour, and answers to chat questions.
You'll gain a greater understanding of how Georgia State's online orientation is
Presenting interactive, video-rich, and modular content within a Branded interface
Providing unique experiences for 11 distinct groups of students, families, and staff
Automatically communicating with student information systems to provide an SSO experience, serve customized content to each group, and automatically release registration holds
Empowering staff with unlimited training to control content and make changes on demand
REGISTER HERE