Digital Experiences New Students Expect
December 2-5 | Orlando World Center Marriott | Orlando | Booth 500
Meet the Advantage Design Group Team at Booth 500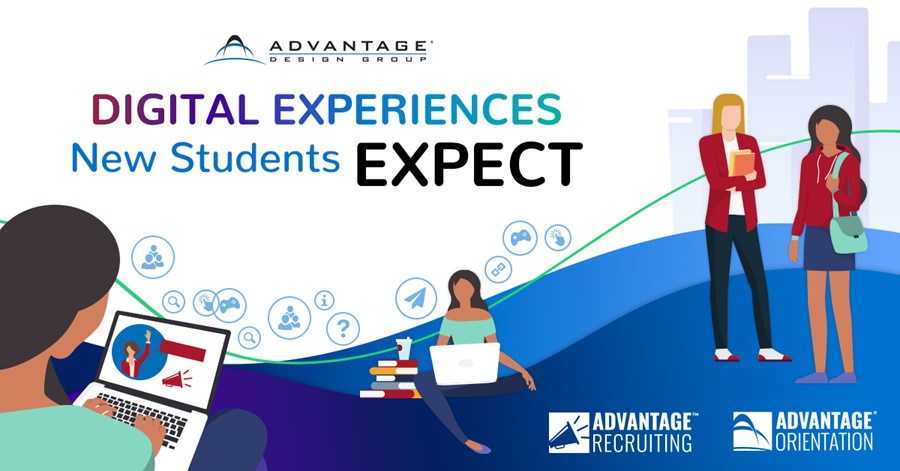 It is never too soon in the relationship between you and your students to focus on the new student experience and begin the process of measuring institutional effectiveness. But finding the right balance of creativity and technology to easily and consistently achieve both has been difficult.
That's why Advantage Design Group® developed a full line of digital experience platforms new students and their families expect. Engage with more students on their journey journey to college by demonstrating your school's quality and excellence while easily measuring your effectiveness in real time.
Empower the journey to college for more students with digital experiences by Advantage Design Group. Trusted provider to Higher Education, each platform is personalized to every student and customized to your Brand: accessible, interactive, and video-rich. Attract and persuade with Advantage RecruitingTM. Welcome and prepare with Advantage Orientation®. Tailored solutions for any budget. Robust analytic tools and unlimited training and support are always included. Ask about SIS and CRM integration solutions.
With Advantage Design Group® you are empowered to
Supplement in-person recruiting and orientation events
Ensure accessibility at any time, on any device
Provide a personalized, interactive, and video-rich experience
Easily track meaningful data in real-time
Save time with integration to automate processes and present curated content to any number of diverse audiences
Amplify any recruiting, engagement, orientation, and onboarding strategies.
Visit Booth 500 and learn why over 100 SACSCOC Institutions choose us as a trusted partner!
| | |
| --- | --- |
| Florida Gulf Coast University | Northern Kentucky University |
| Florida International University | Northwest Mississippi Community College |
| Florida Polytechnic University | Palm Beach State College |
| Florida State College at Jacksonville | Pasco-Hernando State College |
| Florida State University | Pensacola State College |
| Forsyth Technical Community College | Pitt Community College |
| Gaston College | Sampson Community College |
| George Mason University | Savannah Technical College |
| Georgia Northwestern Technical College | Shaw University |
| Georgia Southern University | South Louisiana Community College |
| Georgia State University | Southern Methodist University |
| Germanna Community College | Southwest Virginia Community College |
| Grayson College | Spartanburg Community College |
| Greenville Technical College | Tennessee State University |
| Guilford Technical Community College | Texas A&M University-San Antonio |
| Halifax Community College | Texas Southern University |
| Holmes Community College | The University of Tampa |
| Laurel Ridge Community College | Tidewater Community College |
| Lenoir Community College | Troy University |
| Livingstone College | University of Central Florida |
| Martin Community College | University of Georgia |
| Mayland Community College | University of Houston |
| McNeese State University | University of New Orleans |
| Middle Tennessee State University | University of North Alabama |
| Midwestern State University | University of North Georgia |
| Millsaps College | University of North Texas at Dallas |
| Mississippi Delta Community College | University of West Georgia |
| Mississippi University for Women | Valencia College |
| Mitchell Community College | Virginia Commonwealth University |
| Mountain Gateway Community College | Virginia Polytechnic Institute and State University |
| Nashville State Community College | Virginia State University |
| Norfolk State University | Virginia Western Community College |
| North Carolina Central University | Volunteer State Community College |
| North Carolina State University | Wake Technical Community College |
| Northeast Texas Community College | Walters State Community College |