OPTIMIZE Newsletter
VOL. 3 ISSUE 3 | AUGUST 2023
In this Issue...

Creativity! Some find such a complex concept difficult to define. Known as an original Mad Man, the 1960s advertising legend George Lois defined creativity not by what it is, but by what it does: "Creativity can solve almost any problem. The creative act, the defeat of habit by originality, overcomes everything."   
The flexible technology framework of your orientation is designed to give you more creative choices. Solve problems in unique ways by leveraging ideas and features such as:
Adding a section
Serving Spanish-speaking students and families
Keeping video content fresh and current
To help keep that creative inspiration flowing, connect with us on social media and join us at upcoming conferences and webinars this Fall.
The 8th Section
Ideas in Action
While your virtual orientation platforms are unique and customized to each institution's specific needs, there is something they all have in common: on the main navigation page, most institutions choose seven sections of content. Given the modular flexibility of your platform, you can add as many sections as you'd like. Certainly, you don't want your orientation to be so lengthy that it loses its impact, but might an eighth section contribute value? What purpose could it serve? Let's explore a few ideas and see if adding an eighth section is beneficial for you.    
Locations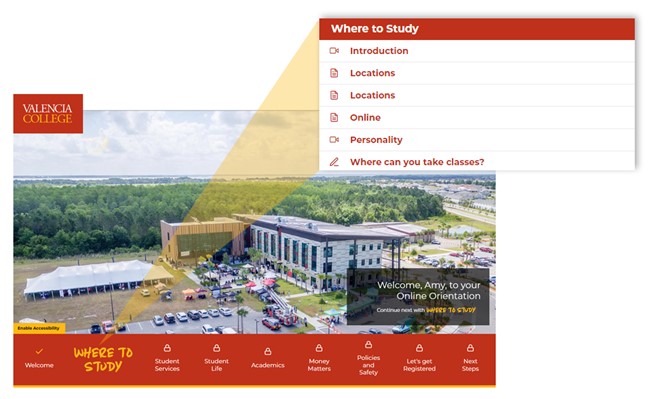 In this example from Orlando, FL, Valencia College chose to add an eighth section entitled "Where to Study" dedicated to highlighting the details and differences associated with each of their campus locations. Instead of cramming this information onto just one screen as part of a larger, combined content section, the dedicated eighth section format gave the content critical room to shine and allowed students to explore and digest the information at a much more relaxed pace, and in more than one way: by physical location and by which programs are available at each campus.
DEI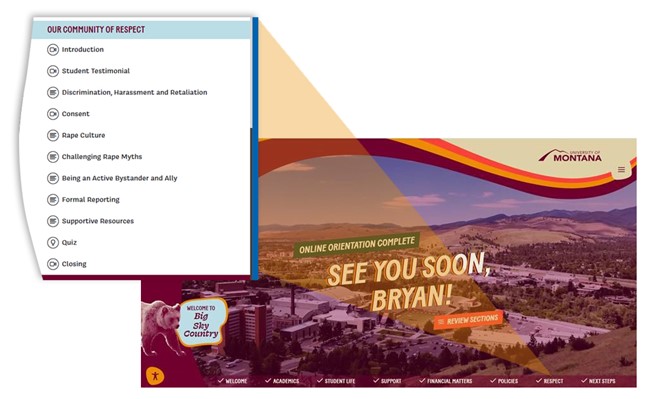 Raising a topic from screen level to section level reflects its priority. In this example, the University of Montana, in Missoula, chose to highlight diversity, equity, and inclusion information in an eighth section called "Our Community of Respect." The section includes aspirational and hopeful messages that address complex topics such as student conduct policies, consent, and the role of an active bystander. The respectful mindset of this section stands out and empowers individuals to contribute to the safety and well-being of their entire campus community.
Student Success
While it's nearly impossible to know what skills, habits, and know-how students bring with them to their college experience, you can provide timeless advice from which every student can benefit. Consider creating an eighth section to support success strategies such as Managing Stress, Finding a Mentor, and Online Learning Tips. Choose from titles like these when you subscribe to the Advantage OnDemandTM orientation video catalog.
Title IX
To address tough topics and support compliance requirements at the same time, dedicate a separate section to spotlight the information. Advantage Design Group's Title IX Module comes with the most up-to-date information presented in video, interactive, and gamified content and is fully customizable to include your campus policies. Add this training to your online orientation in a matter of weeks and choose when students experience it.
Creating Experiences
Creativity doesn't always have to spark from thinking outside the box, sometimes the potential for major impact has been in there all along. If these ideas inspired you to add an eighth section, be sure to reach out to our Client Success Team. Your Account Manager is happy to consult with you to explore the experience you want to create and determine how adding an eighth section can help you achieve that vision.
NEW Spanish Language Video Content
Advantage OnDemandTM
More of you are subscribing to the Advantage OnDemandTM orientation video catalog, which is a strong indicator that you find value in the service. The top three most viewed titles are:
FAFSA – Tips for Applying
How to Use Canvas
Alcohol and Drugs – Awareness, Resources & Reminders
To extend your reach and expand your influence, every title in the Advantage OnDemandTM orientation video catalog now includes Spanish captioning. The feature is automatically enabled for subscribers and accompanies each new title. Viewers can now choose "Español CC" from the closed-captioning menu in the video player bar.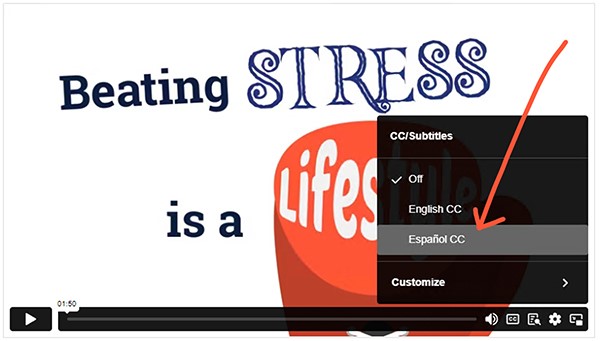 Spanish-Speaking Video Talent
As the diversity of your expanding student body and their families evolves, language can often impede inclusivity. Mitigate potential language barriers even further with videos hosted by Spanish-speaking talent. The collection includes opening, closing, and video quiz sets for the most popular section topics, such as Academics, Student Life, and Finances. Here are two samples as seen in the Advantage Orientation Spanish Language Universal:
Spanish Language Talent

Welcome Video

Spanish Language Talent

Academic Opening Video
Language of Success
Connecting with new students and their families as they begin their college journey sets the tone for success. Keep your students engaged by leveraging either language option, English or Spanish, with a subscription to Advantage OnDemandTM. Contact your Account Manager to start your subscription and keep everyone moving forward together. Afterall, success is best when shared!
How to Keep Videos Fresh & Timely

What's New in Video Production
Video has a compelling user experience that outperforms every other type of communication medium. The combination of both sound and motion stimulates our minds to not only understand new information but also to engage with it emotionally.
We take great care to produce orientation videos that remain evergreen to extend the life of your message and yet, there may be circumstances that cause your orientation videos to become outdated before their time.
When a Video's Time has Come
With the fervor of summer orientation ending, now may be the perfect time to review the content of your orientation videos with a focus on what's happening right now, in the present day. You may discover that while your audio message remains accurate, your visual content may not be. For instance:
prior construction projects may have ended, offering new amenities to showcase,
smiles may be more prevalent now than masks,
perhaps an annual event, tradition, or celebration changed and needs an update,
possibly some of your past onscreen student talent are now current staff members, or
you may have received student feedback (perhaps a giggle or few?) signifying that some aspects of your videos are not on trend with current hairstyles, fashion, or technology.
Video Update Options
Videos we produced for you include branded elements that form a cohesive look and feel. We can update your orientation videos while maintaining this level of continuity in two very budget-friendly ways:
Replace B-Roll — you can provide new images or video files to replace outdated scenes.
In-Studio Video "Pick-Ups" — you can select professional talent wearing your school's spirit wear and let us take care of the rest, remotely, in our studio.
Schedule a Video Review
Take advantage of your Account Manager's experience. Schedule a consultative video review to receive an honest assessment of your videos and an action plan suited to both your needs and your budget. Take it step-by-step:
Complete the contact form. In the message field, please include "Video Updates" and your upcoming availability for a virtual meeting.
Respond to the email calendar invitation for your video review consultation.
Review your videos virtually with your Account Manager.
Look for a detailed proposal within a week of your consultation.
Upcoming Events

Sharing Online Orientation Success Stories
We're taking your success stories on the road and over the Internet this Fall. Each peer-learning event shares real-life experiences transforming virtual onboarding, orientation, and recruitment. We hope to see you at these conferences and webinars. Register for this this exciting kick-off event, then preview what's happening this Fall. We hope to see you there!
Join Us September 13, 1 PM ET, Live Webinar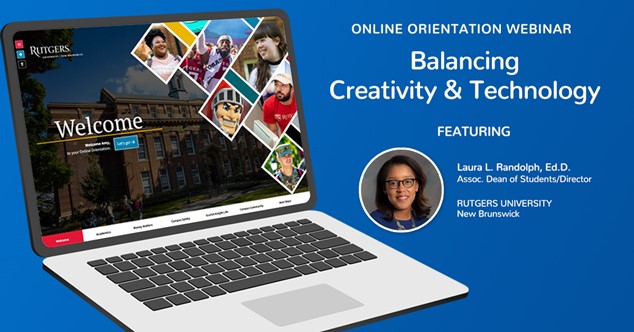 Join Us on Social
Thank you for your trust. We're here to help.
We hope you found value in this edition of OPTIMIZE.
If you have questions and want to learn more, please use the form to connect with your Account Manager.