OPTIMIZE Newsletter
VOL. 3 ISSUE 1 | MARCH 2023

In this Issue...
Discover what you may have missed from the inaugural webinar just for clients, see what you have in common with others in the Advantage Community, catch up on fresh orientation video releases, and consider how you can use some of your platform's built-in tools to continuously improve the experience.
Virtual Onboarding 360 in Review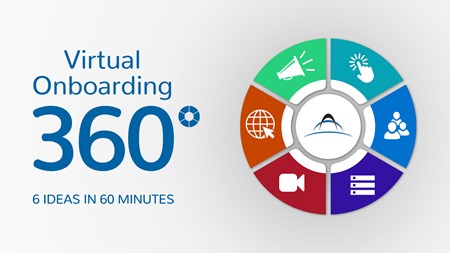 Ideas in Action
With so many options and features available with your Advantage Orientation®, it's important for you to have a "full view" of what your platform can do and how you can leverage these capabilities. That's why we hosted the inaugural "Virtual Onboarding 360o" webinar in February. 
Watch the Recording
For those of you who couldn't attend the live event (or if you want to review), you can watch the entire video or explore topics specific to your interests at the time codes below:
[3:43] Advantage OnDemandTM Experience Videos
[10:54] Specialty Modules (Veteran, International, and Graduate Students) & the Title IX Introductory Module
[20:31] Expansion Planning (what you can do yourself and what the Client Success team can do for you)
[23:34] Video Production options and concepts
[37:27] Guest Log In (provide access to all or a portion of your online orientation for families and prospective students)
[37:55] NEW Product Announcement
[39:20] Questions
Advantage OnDemand Videos
Fresh Releases
The Virtual Onboarding 360o webinar featured the winning concept chosen live by the attendees: Critical Conversations for Families. (Check it out in the webinar recording!) Because the vote was so close, we thought we'd give you the opportunity to view the other two concepts. Remember, with one annual subscription to Advantage OnDemandTM, you have instant access to hundreds of orientation videos relevant to your many audiences.
Preview the Advantage OnDemandTM Catalog
Scroll through the entire index of orientation video titles, then reach out to your Client Success Specialist to learn how to start your subscription.
And the Winner is...
Attending live events has its perks! Those who attended "Virtual Onboarding 360o" and completed the survey had a chance to win a $100 gift card. Congratulations to Human Resources Coordinator Ronitia Henry, Augusta University.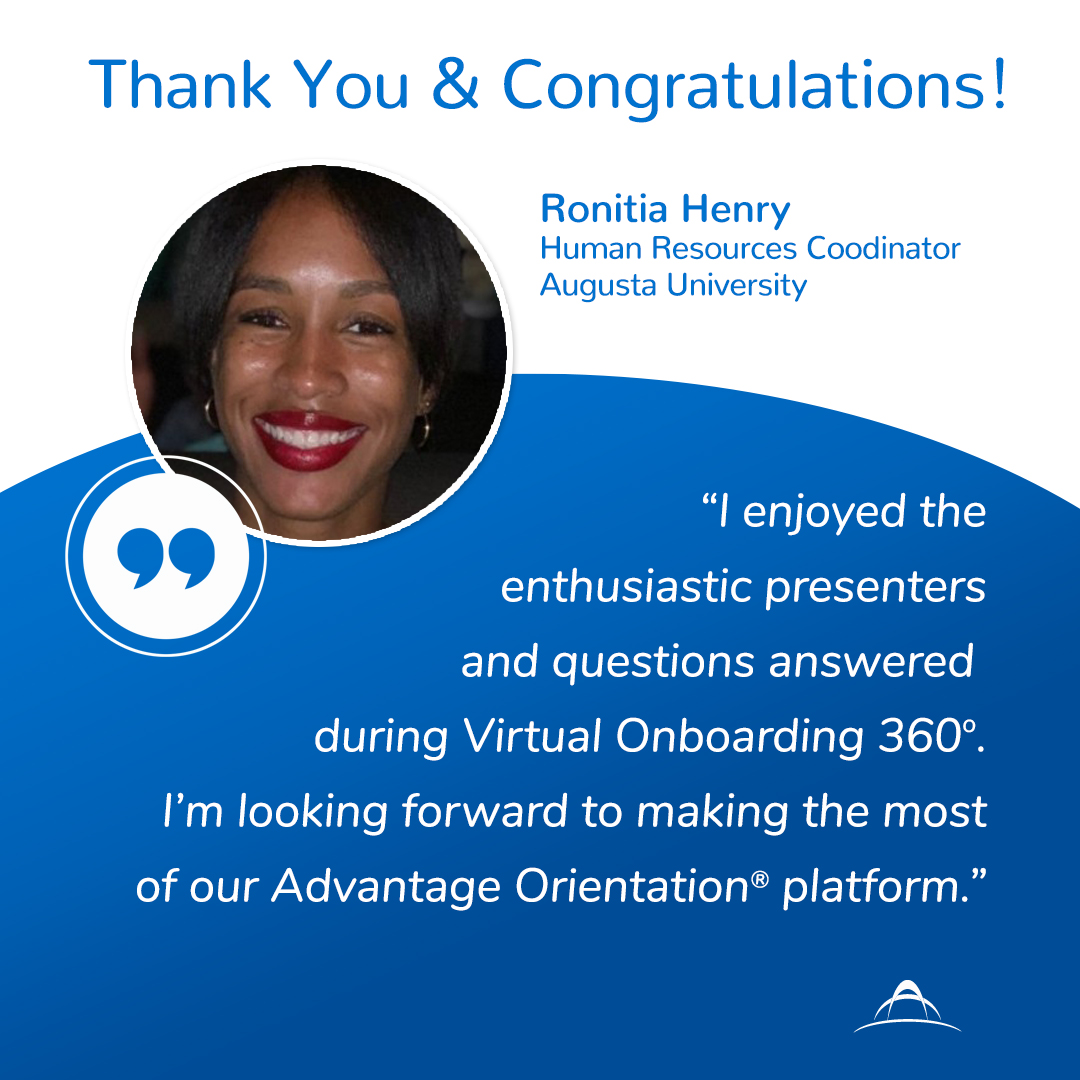 Improving Platform Effectiveness

Training & Support
Feeling confident about launching your online orientation is made easier by the tools in your platform that help you make content and connection more effective. Think of your online orientation as a two-way communication system where members of your audience go to learn and where you go to listen. Having the ability to make improvements to your platform is an advantage!
Surveys and the FAQ Discovery Tool are two ways to tap into what your audience is thinking.
Survey responses can reveal more than aggregated data points, especially if you've included an open-ended comment option. Schedule time to review survey responses on a manageable schedule. Look for trends in categories that reflect a negative or unsatisfactory experience. Use this feedback to make changes or additions to your content, then check back in to see if similar questions persist. 
The same thinking can be applied to your FAQ tool. If you have already started with a solid bank of answers, look at the questions that have bubbled to the top, as these are selected most often. The same can be said about additional questions asked in the FAQ. If you see a trend, track it back to your content and make modifications to answer the question more clearly, either through text, imagery, video, or transformation into a game if appropriate.
There are so many tips and tricks to managing your platform with ease. Most best practices can be found in the documentation within your administrative panel. But, because you operate differently and have unique needs, you can always reach out to your Client Success team to connect with a knowledgeable specialist ready to help.
Expansion Ideas

Learn from Your Peers
It's exciting to be able to experience, first-hand, how your colleagues are making intentional choices when it comes to creative and technical options available with your platform. Your platform's effectiveness and how your Brand is experienced is impacted by design, content, and programming. That's a lot of choices!
Because expanding your orientation platform can take many forms, you're invited to attend these upcoming events to learn how your peers are adapting their platform's capabilities to unique engagement strategies. 
Register to Attend these Events
Orienting Each Student to Reach their Peak
Wed., April 19, 1 PM EDT
Presented by Homer Wesley, Vice President Student Services, and Rachael Campbell, Director of New Student Orientation and Strategic Student Services Initiatives at Pikes Peak State College.
Featuring unique video concepts produced remotely in our studio including professional talent
---
College Recruiting. Done. Differently.
Wed., May 3, 1 PM EDT
Presented by Ben Matthew Corpus, Ph.D., Vice Provost for Enrollment Management at Florida Polytechnic University
Featuring an innovative adaptation of the Advantage Orientation system for college recruiting. Content includes customized video production concepts to complement the interactive and guided experience toward applying.
Advantage Community Insights

Commonality
If you're wondering what you have in common with other institutions using Advantage Orientation®, check out these latest stats and poll responses.
How the Advantage Community Measures Up
| | |
| --- | --- |
| Higher Education Deployments Worldwide | 402 |
| Community & Technical Colleges (2-year degrees, certificates) | 40.28% |
| Universities (4-year and advanced degrees) | 59.72% |
How Advantage Orientation is used in the Onboarding Process
| | |
| --- | --- |
| A Pre-Orientation to Supplement In-Person Orientation | 60% |
| The ONLY Orientation Offered | 32% |
| A Replacement for those who cannot attend In-Person Orientation | 29% |
| Optional to an In-Person Orientation | 17% |
Not including First-Time in College or Transfer Students, student groups representing a growing segment
| | |
| --- | --- |
| Dual Enrollment | 47% |
| International Students | 32% |
| Continuing Education | 28% |
| Veteran Students | 21% |
| None of these | 12% |
Thank you for your trust. We're here to help.
We hope you found value in this edition of OPTIMIZE.
If you have questions and want to learn more, please use the form to connect with your Client Success Specialist.