OPTIMIZE Newsletter
VOL. 3 ISSUE 2 | JUNE 2023

In this Issue...
The cumulative moments of interacting and collaborating with you over the years has given rise to outcomes that are truly greater than the sum of the parts inside your virtual experience platforms. Thank you!
You can feel the synergy through new features, unique interface designs, and video production approaches that enable you to reach and engage with more audiences than ever before. Applications of these virtual experience platforms are expanding, providing more efficient and more cost-effective onboarding solutions across the enterprise. 
In this issue, explore Advantage Design Group's NEWEST innovations for
Recruiting Students 

Content for International Students

Advantage Orientation

®

 for Faculty and Staff
You can also register to attend an event to discover how your peers are serving the continuing education audience.
Innovate Enrollment Marketing with Advantage Recruiting
Ideas in Action
Advantage RecruitingTM represents an innovation in enrollment marketing. Built on the Advantage Orientation® framework, this virtual engagement experience leverages rich video content and data-driven insights. You can expect to optimize your virtual tour experience and boost engagement with prospective students and their families.
Leaning on the features in your virtual orientation, Advantage RecruitingTM provides a personalized and interactive experience where visitors can choose what interests them most. The system includes an intentional set of videos designed to provide a more captivating experience. From an opening "sizzle reel," visitors can tour the campus, explore flagship facilities, gain insights into the student experience from other students, meet key staff, and so much more.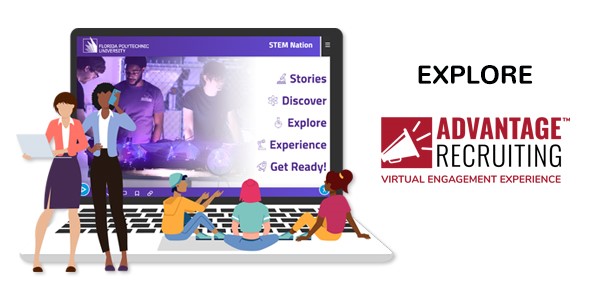 Overcoming Recruiting Obstacles
The landscape of college admissions and recruiting is more competitive than ever before. According to a recent poll*, an overwhelming majority (80%) of Admissions and Enrollment Officers are dissatisfied with their current virtual tour traffic and the progression of students through the enrollment funnel. Considering the shifts in population, changing data sources, and insights into student expectations, recruiting and enrollment strategies should include ways to
Mitigate the impending enrollment decline. Due to lower birth rates, traditional-age student enrollment is predicted to fall by more than 15% in 2025.
Focus on value. A recent survey shows a

mong the top four reasons students are turning away from college, three have to do with the bottom line: cost.

Identify best-fit candidates. Depending on your state, you may no longer have access to prospective student data previously curated from standardized testing sources.
College Recruiting. Done. Differently.
Everyone is trying to improve brand awareness, get more eyes on their institution, and be more engaging. With Advantage RecruitingTM, you have a well-timed opportunity to do things differently, capture more leads, and cultivate more applications. As students actively explore, control, and digest content in many forms, you gain insights into behaviors and interests from real-time data. 
Admissions counselors and recruiters can leverage this powerful attraction and engagement tool to
Instantly deliver to mobile devices via QR code during college fairs or school visits
Text or email to website visitors
Respond to comments or questions from multi-channel sources, like social media
Of course, if you want to automate digital processes, ask us about connecting Advantage RecruitingTM to your CRM.
Explore Advantage RecruitingTM
What is included in Advantage RecruitingTM? What type of videos are included? How much is it? When can we get started? To explore on your own, share this article, including the resources below, with your team. You can also reach out to our Client Success team using the form on this page to schedule a personal tour and request a detailed proposal.
Visit these Resources
Webinar Recording: Discussion & Tour*
Experience Advantage RecruitingTM NOW
Advantage OnDemand Videos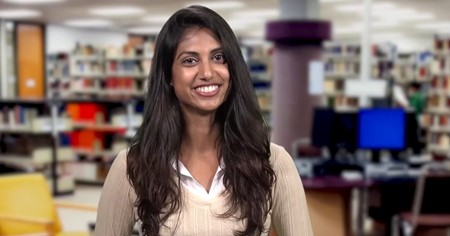 Onboarding International Students
Customizing a video-rich online orientation experience for international students is now easier and faster than ever before!
Inside the Advantage OnDemandTM catalog is a complete set of orientation videos for international students. The series kicks off with this welcome video to congratulate new international students on their acceptance and to frame their expectations. Professional onscreen talent presents an outline of the topics international students need to know before coming to campus, including Immigration Basics, Health Care and Health Insurance, Laws and Safety, and required Next Steps.
Preview the Advantage OnDemandTM Catalog
Scroll through the entire index of orientation video titles, then reach out to your Client Success Specialist to learn how to start your subscription.
Orienting Faculty & Staff

Enterprise Solution
Clients often share how the flexibility and adaptability of Advantage Orientation® makes it a perfect onboarding solution across the enterprise, for any audience, including employees. In fact, after the Virtual Onboarding 360 event earlier this year, many of you wanted to learn more about this option. While some institutions encourage staff to engage in the online student orientation (especially those in advisory and student success roles), we can make it easy for your HR Team to provide a unique orientation experience for faculty and staff.  Here's a quick explanation of your options and a great example from Georgia State University.
Shared vs. Dedicated Platform
Expanding your online orientation to provide faculty and staff with a unique onboarding experience can be created by sharing your existing platform with your HR department OR hiring us to create a dedicated platform for employees. Both of these options include unlimited training.
Shared Platform

Create a Profile Member Group: includes the ability to serve unique content to a group and assign access for a new administrator to manage that content. This option requires a small production fee to create the member group and one slide of content to get you started. No additional annual subscription is needed. Creating member groups starts at $2500.

Dedicated Platform – Clone or New Design

Clone: a copy of your existing platform using the same interface design and content, allowing you to edit and customize as you choose. A cloned platform starts at $9500.
New Design: a fresh, on-brand design approach and dedicated production process. 
Both of these options include a dedicated URL (web address) and your choice of content creation, audience segmentation, and integration services. An additional annual subscription fee is required.
Employee Orientation Example
Georgia State University chose to clone their existing platform and create unique orientation content for faculty and staff.
The cloned version of the orientation platform uses the same interface and branding elements for consistency but differs in the topics and information presented as seen in the main navigation choices within the imagery below.
| | |
| --- | --- |
| New Student Orientation  | New Employee Orientation |
| | |
| Topics addressed for students include Welcome; Academics; The Panther Experience; Safety & Security; and Next Steps | Topics addressed for employees include Overview; About Georgia State; Campus Services; Instructional Innovation & Technology; Safety, Insurance & Risk Management; Safety, Security, and University Police; Employee Development and Wellness; Diversity, Equity, Inclusion and Access, Summary |
Next Steps
So, as you can see, using Advantage Orientation® as a virtual onboarding experience for employees is not only possible, it's proven. To get started, share this article with your HR Director and connect with your Client Success specialist to schedule a tour for your team.
Upcoming Events

Webinar
Explore Virtual Onboarding with Continuing Education Leaders from Harvard University Extension School
Wednesday, July 19, 1 PM 
Virtual onboarding solutions are helping students define their path through continuing education. Whether they are returning to higher education or considering professional studies for the first time, many students may struggle with "imposter syndrome." While institutions can tout the value to be gained from an education experience, leaders at Harvard University Division of Continuing Education (DCE) are also leaning on engagement strategies to show students the value they can contribute by being a part of something bigger than themselves.
Learn from Jason Pappas, Director of Academic Operations and Innovation, and Shirley Greene, Senior Associate Dean for Student Affairs and Title IX Resource Coordinator for Students.
Join Us on Social
Thank you for your trust. We're here to help.
We hope you found value in this edition of OPTIMIZE.
If you have questions and want to learn more, please use the form to connect with your Client Success Specialist.