OPTIMIZE Newsletter
VOL 1 ISSUE 2 | DECEMBER 2020

In this Issue
Discover ways to give new students and their families a more personalized online orientation experience, even from a distance.
Take Campus to the People with Video Walking Tours
What's New in Video Production
Imagine giving new students and their families a video walking tour of your campus any time they want. You can use a video tour within your orientation platform, place it on your website, or both. And, of course, we'll make sure the look and feel align with your Brand. Here are two examples produced in two totally different ways.
| | |
| --- | --- |
| | Big Bend Community College chose to feature their staff at different locations on campus. Their walking tour was filmed live, on campus, and features campus locations where students can access support services, resources, and programs. Scripts include a few insider tips, too! |
| | |
| --- | --- |
| | Louisiana State University wanted students to guide students and opted for a hybrid approach to video production. The solution was to combine their b-roll and images with student actors filmed in our studio. They chose spokespeople from our selectio nof professional talent they felt reflected their student population and provided the wardrobe. We took care of the rest. |
Multiply your Orientation Video Options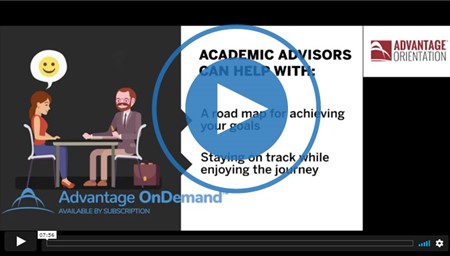 Watch the Advantage OnDemandTM Webinar
Creating fresh and engaging video content can be a struggle!
It's not just about what needs to be communicated, it's also about how
it is experienced within the platform. Because video attracts attention and supports retention like no other digital medium, we've answered both "what" and "how" questions with one solution.
Advantage OnDemandTM is our new video subscription service, with more titles added all the time. Give your students solid advice, tackle complicated topics, or show them how to use a popular learning management system. With an annual subscription far less than the cost of producing just two videos, you'll always have access to video content you can add to your onlineorientation or website in just minutes.
Watch the webinar recording (just under 8 minutes) to experience a few examples, then
preview the Advantage OnDemandTM Catalog. Scroll through the entire index of orientation video titles, then reach out to your Client Success Specialist to learn how to start your subscription.
The Power of Profile-Directed Content

small upgrades - BIG IMPACT
No student is alike, and yet, every student needs similar information during orientation. How do you balance these two realities? Add an exclusive feature to your Advantage Orientation® we call "Profile Member Groups."
With this functionality, you can serve students more relevant content for a more personalized experience. The experience is more efficient for you, too, as you can assign administrative roles to staff to manage content by group.
There are two ways to direct content to students based on their profile. Students can self-identify as a member of a group when they first log in. Alternatively, we can "integrate" with your student information system to leverage all those student type fields, like FTIC, TR, INTL, or VET, for a completely seamless experience.
All your serving a more diverse student population with different needs and different requirements? Ask your Client Success specialist about adding Profile Member Groups.
Welcoming Veterans to Campus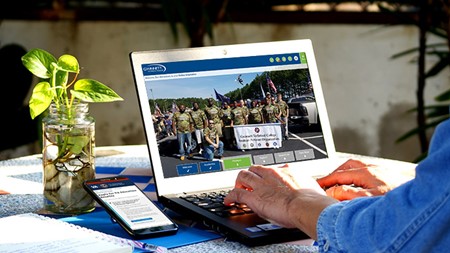 Ideas in Action
Over a million veterans and military-affiliated students are attending colleges and universities to advance their education and find high-quality jobs after completing their military service.
How are you welcoming these students to your campus community?

Gwinnett Technical College in Lawrenceville, Georgia, has long served the veteran community and earned top national rankings in the Military Times® and Military Friendly®. So, when we approached them about creating an online orientation just for veterans, they jumped at the opportunity.
Through our collaboration, the Advantage Orientation® for Veterans welcomes veteran students through a series of video and interactive content that speaks to their unique background and addresses their most immediate concerns.
Preview the Student Welcome video above and learn more about this content rich platform here.