Bring Your Advantages to Life with Online Orientation
Wednesday | November 1 | 1 PM ET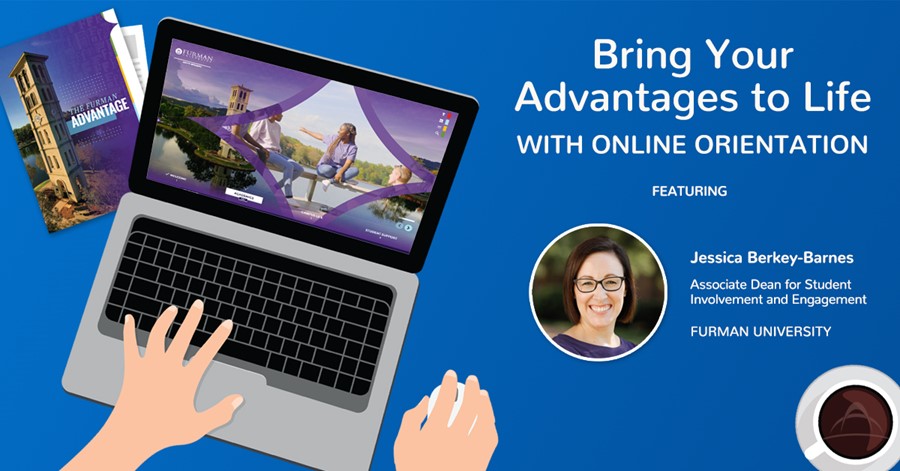 The Furman Advantage is deeply rooted in the new student experience at Furman University. This advantage lies in engaged learning, reflection, belonging, and mentoring. So, while recognizing the benefits of an online orientation to reach more new students with consistent messaging, campus leaders wanted the virtual experience to provide foundational information for diverse student groups while inspiring them to anticipate making human connections essential to their educational success.
This webinar will explore how the Furman Advantage is creatively interwoven throughout "New@FU," Furman's online orientation platform. Not only will you experience how responsive interface design was carefully crafted to align with the Furman Brand, but you will also discover how intentional video production techniques are used to provide more engaging and relevant content paths for seven distinct audiences within a single system, including
First Year Students
Transfer Students
International Students
Student Athletes
First Generation Students
Families
Prospective Students
Leaning on their orientation system's reporting capabilities, it is easy to analyze data to evaluate student progress at essential touchpoints within the experience. New students are completing online orientation at a rate of nearly 80%. Families are engaging in online orientation, too!
Attend this Webinar to
Learn from Jessica Berkey-Barnes, Associate Dean for Student Involvement and Engagement at Furman University
Explore the strategies and decisions behind the development of Furman's online orientation, including design, video, and messaging choices for various content tracks.
Tour Furman's online orientation like a student
Engage in Q&A to get your chat questions answered
Discover a versatile and expandable online orientation system applicable to any onboarding or engagement strategies. This story is a model you can follow!
REGISTER HERE