International Student Online Orientation Solutions
October 9 - 11 | Birmingham-Jackson Convention Center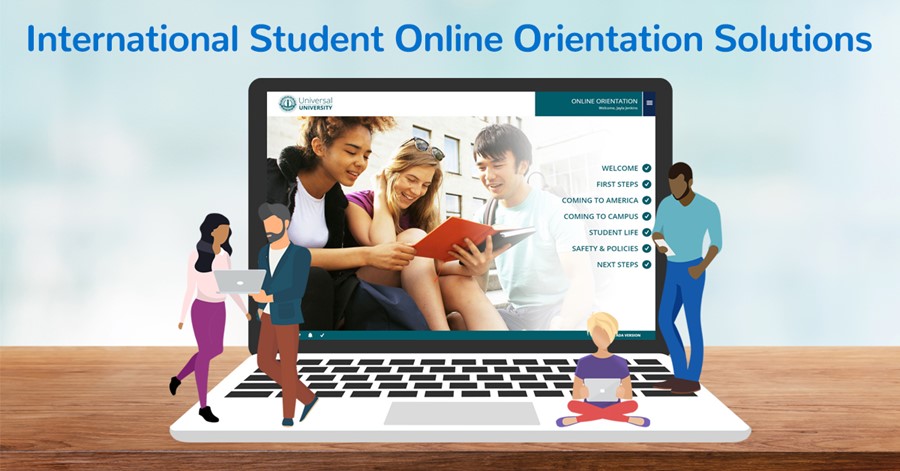 International Student Services professionals are finding greater onboarding success with online orientation solutions from Advantage Design Group®. Consider these online orientation success stories, then let us know you'll be stopping by during the conference.
Troy University adopted Advantage Orientation® in 2019 to provide incoming international students with a personalized and video-rich experience. Since launch, students complete online orientation on their own time at a rate of over 74%.
Even with a strong emphasis on in-person orientation, this platform has been a great addition that students can use as an ongoing resource.
Maria Frigge, Dean of International Student Services
Troy University
Eastern Virginia Medical School is a Health Sciences University, with a Med School and School of Health Professions. So, when enrollment and student affairs leaders at EVMS began to consider the potential of online orientation, they recognized it as an opportunity to
Set a professional tone with newly admitted students
Provide access on any device
Present organized information to their growing contingent of international students
Adapt to future needs with a flexible and expandable system
Communicate the hallmarks of the EVMS student experience - service-learning, volunteerism, and congeniality
Today, EVMS has a comprehensive orientation system that delivers a beautifully branded digital experience, personalized for domestic, online, and international students, all in one solution.
Rose Mwayungu, Ed.S, Director of Enrollment
Joann Bautti, MPA, Director of Student Affairs and Student Equity Officer
Eastern Virginia Medical School
Visit Advantage Design Group® in the Exhibit Hall
Learn what it's like to develop and implement fun, exciting, and beautifully branded orientation platforms that are effective and easy to manage
Tour virtual orientation examples and experience animated, interactive, gamified, and video content, personalized to multiple audiences
Get your questions answered and learn how Advantage Orientation® easily adapts to your international student recruitment and orientation strategies