Empower Successful Student Transitions
September 30 - October 2 | Hyatt Regency Riverfront | Jacksonville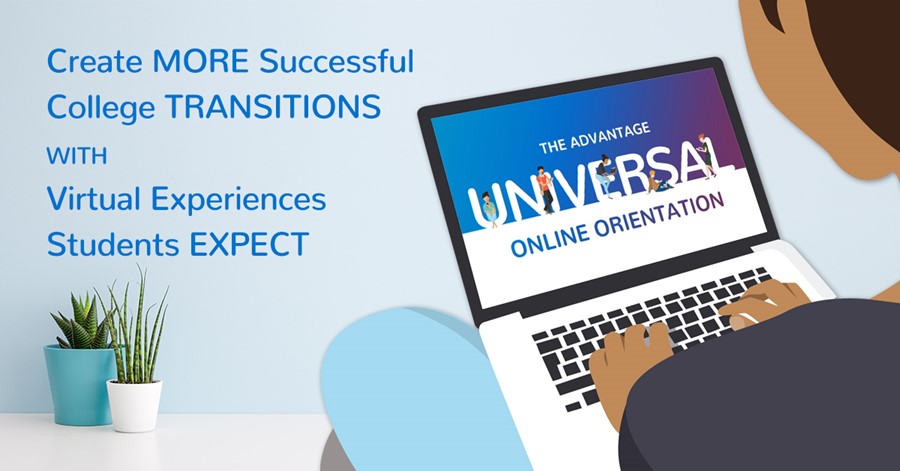 Supporting student transitions throughout the entire undergraduate experience is made more effective when complemented with virtual experiences. Each transition is an inflection point in the student journey, representing critical junctures in the educational experience. A well-timed, accessible, and convenient online orientation can make all the difference.
It's important to remember how virtual experiences provided to students and their families impacts their perceptions of your school and how they see themselves attending. That's where Advantage Orientation® stands out! When you want to improve the onboarding experience for new first year students, transfer students, as well as veteran, international students, and families, consider all that Advantage Orientation® has to offer:
Design Excellence – each online orientation incorporates the hallmarks of UX design and includes a seamless blend of branding, interface design, and functionality with personalization, interactive elements, responsiveness, and lively video content.
Tailored Solutions – choose the creative development services you need to fit your goals and your budget, from writing, video production, and programming. The production process is smooth, simplified, and stress-free.
Trusted Partner – more institutions prefer Advantage Design Group's student orientation solutions than any other provider. They rely on the system's expandable framework to easily adapt to changing onboarding or engagement strategies, ensuring predictable return on investment in the long-term.
Unlimited Support – stay empowered with as much training and support as you need. Your content is yours to update and edit on demand. Analytic tools make reporting easy. You gain  the control, autonomy, and know-how to keep your messages fresh and data within reach.
Experience Advantage Orientation®
Come experience the Advantage Orientation® Solutions for yourself during the 30th National Conference on Students in Transition. Meet the team from Advantage Design Group® in the exhibit hall. Use the form to let us know you plan to stop by. Bring your online orientation questions, we'll be there with answers!